Winnipeg Comedy Festival Presents A Virtual Night of Comedy In Support of Dreams Take Flight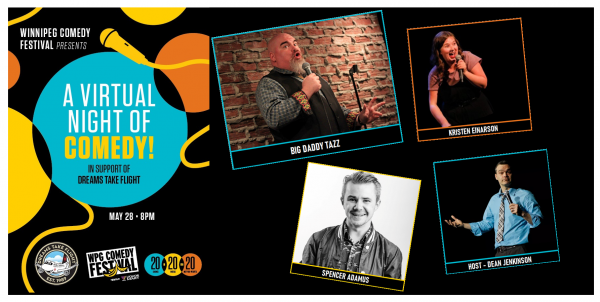 Laughter makes everything better!  Winnipeg Comedy Festival is happy to present a night of virtual comedy in support of Dreams Take Flight.
Please join us on Friday, May 28, 2021 at 8 PM Central where we have a fun filled show featuring comedians that will be sure to make you laugh and help support a great cause in the process.  All proceeds will help to provide a trip-of-a-lifetime to special children in our community and create lasting memories and limitless possibilities.
Tickets are only $10 each and can be purchased by CLICKING HERE
Winnipeg Comedy Festival has arranged a great lineup of comedians for our event.
The host of the evening will be the Artistic Director of the Winnipeg Comedy Festival and comedian Dean Jenkinson.  Dean is an award-winning comedian and comedy writer in Winnipeg, Canada.  He's appeared on Comedy Now, The Winnipeg Comedy Festival, The Royal Canadian Air Farce, Laugh Out Loud, and 17 times on CBC Radio's smash hit, The Debaters. He's been a contributing writer for This Hour Has 22 Minutes since 2007, and has written for several Just For Laughs specials, creating material for such acts as The Muppets, Joan Rivers, Neil Patrick Harris, Sarah Silverman, and cast members from The Big Bang Theory. When he's not writing comedy or performing in a comedy club, Dean entertains at corporate and community events across Canada.
Big Daddy Tazz
It was high school that Big Daddy Tazz realized his natural ability to make people laugh. After falling on his face, his teacher asked what he was trying to prove. Tazz quickly answered, "Gravity!" Laughter erupted, and thus the saga began.
Having performed a wide variety of shows stretching from a client's 101st birthday to a biker initiation makes Tazz one of the most sought-after comedians working today. Tazz is able to do what he loves both on and off stage, which is to make people laugh! His off-the-cuff style brings the audience together, making them feel like they are part of his family, sitting around the kitchen table playing crib.
Whole-heartedly believing that KIDS COME FIRST! Big Daddy Tazz gladly dedicates his time to make fundraisers an event second to none. Wanting to draw attention to the Children's Wish Foundation, Tazz lived on the roof of a Saskatoon pub for 14 of the hottest days on record! Tazz entertained from his high-rise comedy stage, and his antics helped draw national media attention for the function. And even with the heat stroke, sunburn and many, many parking tickets, Tazz reached his goal — the charity received a healthy cheque, and hundreds of people got a huge belly laugh!
Kristen Einarson is a comedian, actor, and marketing sellout based in Winnipeg, Manitoba. She made her Winnipeg Comedy Festival debut in August 2020. She has performed regularly in venues all over the city, opened for headlining comedian Chris Locke (Baroness von Sketch, Mr. D), and won The Handsome Daughter's "So You Think You Can Host" competition in January 2020. Before COVID-19 hit, she ran an open mic at the Oakwood Cafe.
Spencer Adamus is a stand-up comedian and actor from Winnipeg, Manitoba.  Spencer has been a part of numerous comedy festivals and is a regular member of the sketch comedy group Family Dinner.  The subject matter is Spencer's stand-up comedy include aggressive gym members, the struggles of being short, and the awkwardness of dating.
Please Note:  A link to the event will be emailed to you on the day of the event.  Only one ticket purchase is required to have the link sent to you.  For more information please email winnipeg@dreamstakelflight.ca