One's mind, once stretched, never regains its original dimensions.
Give a trip-of-a-lifetime. Give limitless possibilities.
Welcome to Dreams Take Flight | Winnipeg!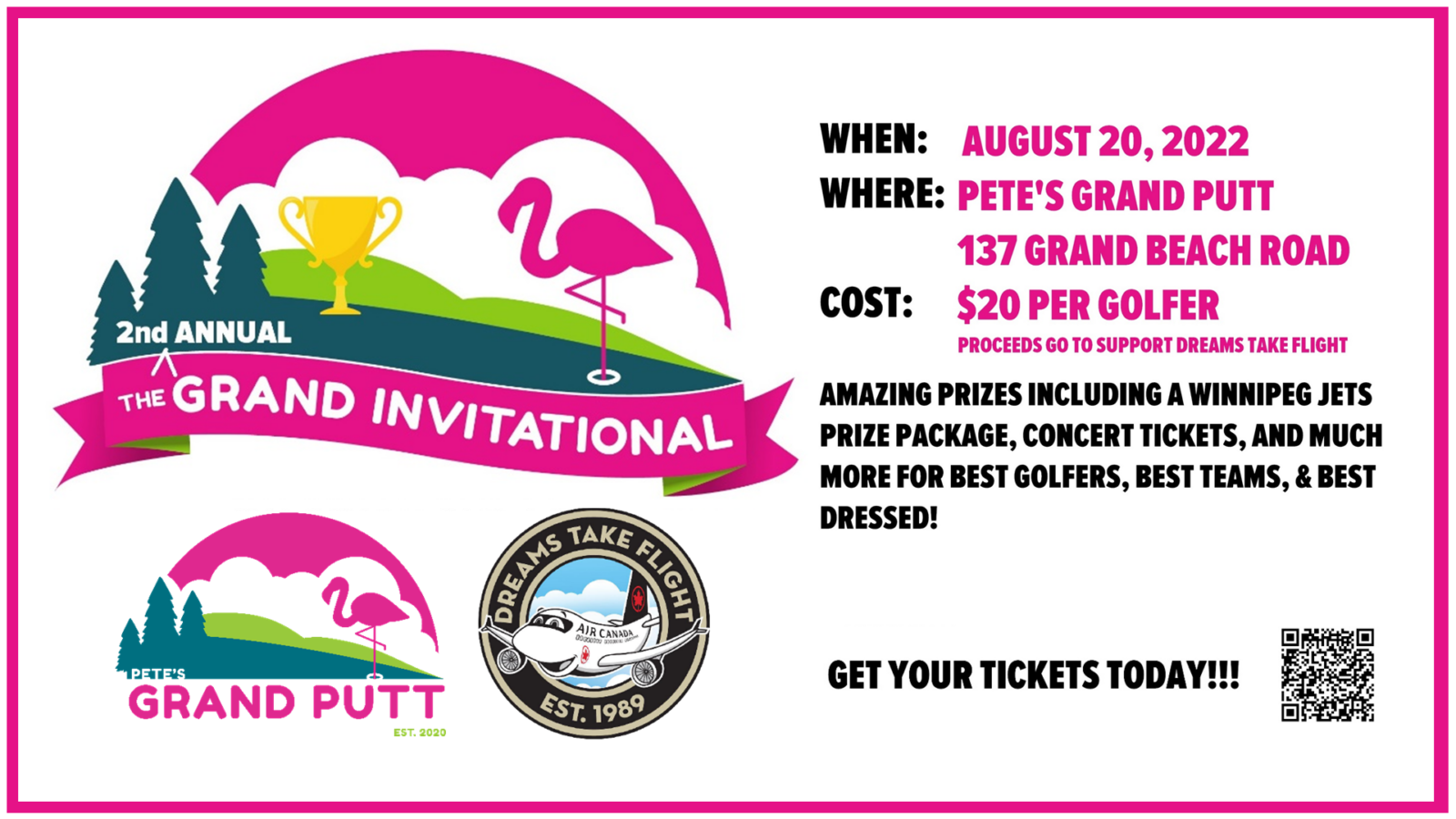 2nd Annual Grand Invitational In Support of Dreams Take Flight 
From our friends at Pete's Grand Putt:
After a successful first Grand Invitational in 2021 we are excited to announce our second annual Grand Invitational taking place on Saturday, August 20th, 2022. Due to the high volume of interest in 2021 and the request to expand to include families and children the event will be expanded this year to take place from 10 AM – 10 PM.
We are excited to announce our partnership with the charity Dreams Take Flight. Dreams Take Flight is a non-profit organization made up of volunteers from the Air Canada employees, retirees and community volunteers in Canada and the United States. Each year they bring an aircraft of local deserving children to Disney World to experience an amazingly magical day. To date, more than 2600 children have joined experience a fun-filled adventure at the Magic Kingdom in Orlando! In support of their 2023 flight ticket proceeds will be donated to Dreams Take Flight!
Put your miniature golf skills to the test by battling the East Beaches' best of the best in the ultimate mini golf tournament. Prizes will be awarded to best team score, best outfits/costumes, best individual score youth, and awarding the coveted "Pink Jacket" created custom by EPH Apparel, a token of victory to the best adult individual score.
Golf is available for all ages from 10 AM – 4 PM. All timeslots after 4 PM are only open to golfers 18 years of age or older.
Full details on the prizes will be made available online on our websites, and social media channels.
Tickets can be purchased from our other events page or by clicking HERE.
If you have any questions please email k.phillips@dreamstakeflight.ca
Dreams Take Flight stretches children's minds. As poet Oliver Wendell Holmes wrote, "One's mind, once stretched by a new idea, never regains its original dimensions."
In 1989, several Air Canada employees in Toronto planned a trip-of-a-lifetime. They flew 70 special needs children on a DC-9 aircraft to Walt Disney World in Florida.
By 1997, the Dreams Take Flight charity had expanded across Canada.
For a very long and exciting day, deserving children live an adventure in a world-renowned theme park in California or Florida. All expenses paid—thanks to sponsors and volunteers.
When they land back home, their minds are stretched to new dimensions. They see new possibilities.